Here's my little resource page with some of the various stuff I use at my events. Any of you TOs or PTOs are welcome to use any of it that you like.
Pokemon Table Tents

These are some table tents I designed to use for my events that any of you may use if you like. They are set up to print 2 table numbers to a page, and there are instructions on each page. Each link opens a pdf file that you can open and print or save for later usse. After you print them, simply cut along the lines to separate the two table numbers, fold the table number in half, fold along the dotted lines under the number, cut the line at the bottom that will allow the bottom part of the tent to slip together to form the base. They can be printed on regular sheets of paper for a more 'disposable' version, or laminated for a more permanent version, or printed on card stock for a heavier version. Print out only the pages with the table numbers you need for your event. I also have some with commonly used areas at events, as well as some blank ones, with the Pokeballs and nothing else, so you could write in whatever you needed.

Here's how they look…

   
I also have a smaller version designed to lay flat on the table. It is also designed to print out on a regular 8.5 x 11 sheet of paper, or cardstock for a heavier weight. Each sheet has 16 table numbers on it, and there are 5 sheets available so far and each opens in a pdf file to save or print. Then you just cut them on the lines and lay flat on the table between the players. I have a set that I laminated after I cut them, to keep them in good shape for multiple events.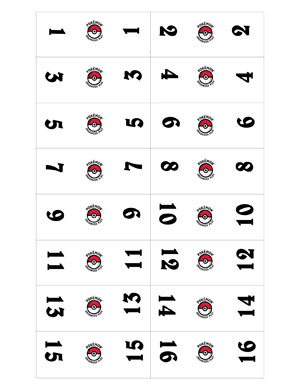 Miscellaneous Flyers etc
Sometimes I'll make flyers from time to time to use at the store or as giveaways at my events. Here ya go!
Rising Rivals mini-poster (8.5 x 11 size, 439kb, pdf)