Time for another League Challenge!

Top Cut Comics – Loves Park
5600 N. 2nd St
Rockford IL 61111
Mauville League Challenge
(Standard Format BCR-PRC)
Saturday March 23, 2015
Registration  from 11:30 to 12:15pm


(come early unless you have your Decklist  in hand!)
$5 Entry Fee includes a pack at entry and
$4 Store Credit per person playing goes into the prize pool
(there will be no lunch break, so eat before you come.  Snacks and drinks for sale at the store)
Decklists required
(super easy to use the Decklist Generator or print this one out - Decklist BCR-PRC
(No Top Cut Finals for League Challenges- Prizes are awarded after Swiss Standings)
Click for more details 
So… what's a League Challenge?
League Challenge tournaments are designed to provide players with small, entry-level events on a local scale. These events are a great way to get your feet wet in the world of Premier Events.  In the Pokémon Trading Card Game League Challenge tournaments, players in each of the three POP-recognized age divisions can work toward earning Championship Points, potentially earning an invitation to the World Championships!  The Pokémon TCG League Challenge tournaments in North America will be taking place all year long, usually at the end of each League season.   Click More for the rest of the details!
To find times and locations of League Challenge events in your area, click here. Players may participate in multiple League Challenges, other than their own Leagues, if the Organizers have allowed it, although details on pricing and prizes may vary from League to League and Season to Season.
What is the tournament structure?
For this tournament we're going with the Standard Format (BCR-PRC, see below) and Age-Modified Swiss pairings. See the Pokémon Tournament Rules for information about the Standard Format and Swiss.  The number of Swiss rounds to be run will depend on total attendance at the event.  League Challenge tournaments do not include a Single-Elimination portion; placement in the event is determined by final Swiss standings.
Decklists will be required.  Here's  a link to one you can print out ahead of time and fill out. – remember we're going with Standard this time, Boundaries Crossd – Primal Clash, Decklist BCR-PRC, or better yet, use the Decklist Generator.  I'll also have them at the event or at our League prior to the event.  We can also help you fill it out at League if you're not familiar with how to do it.   Just remember if you wait to fill it out there,  be sure to be there early enough to get them filled out and turned in before 12:15pm, because you must have a decklist to be entered in the tourney! And remember, it's you're responsibility to make sure that your deck is legal and matches your decklist completely, so take care in writing it out! We'll have people who can help you fill it out or check over your deck when you get there, so just let me or one of my Judges know if you need some help.  Here's what's legal for the Expanded Format: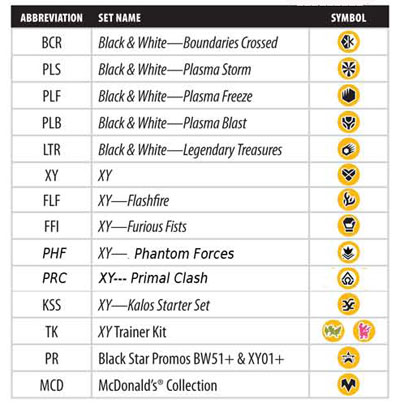 Who may enter in the Tournament? Anyone who knows how to play the game may enter, you do not need to be a member of our League … All are welcome, of all ages, from far away, or right in town! If you're new to the game and want to learn more about it, check out the Pokemon Organized Play website for a demo with instructions on how to play so you'll already know how when you get there, because for this particular event, you should at least already know the basics of how to play. Or of course you can come to our League on Saturdays from 3:30 to 5:30 to trade cards, build decks, and practice for the League Challenges!
What do I need to bring with me? You'll need to bring your own 60 card Standard Modified legal deck (BCR-PRC),  bring your own damage counters or dice, you may want to bring money to buy snacks, drinks, dice, sleeves, booster packs, or other products for sale at the store. You also need your POP ID number.   If you're in a League or already have an ID number, write it down and bring it with you, and if you're new and don't have a POP ID number yet, no worries… I can get you set up with one right there.
What is the cost?
The cost to enter a League Challenge will vary from location to location.  At Top Cut Comics, our League Challenge will be $5 to enter, but in addition to the Basic Prizes, everyone gets a pack up front, and $4 Store Credit for each player playing goes into the Prize Pool, to be distributed based on number of players in that age group.
What are the prizes?
Prizes are awarded to the top players in each of three age divisions. Players must have a Pokémon Trainer Club account with a Player ID attached, and must have opted in to the Play! Pokémon program in order to earn points and prizes. All participants will receive 1 Play! Point just for playing, and the top four players in each age division will win a special promo card.
1st Place
A Pokémon TCG 1st Place promo card
2nd Place
A Pokémon TCG 2nd Place promo card
3rd Place
A Pokémon TCG 3rd Place promo card
4th Place
A Pokémon TCG 4th Place promo card
(Get Play! Pokémon general event information here.)
League Challenge Championship Points
Best Finish Limit: 6
Play! Points: 1
| | | |
| --- | --- | --- |
| Placement | Points | Kicker |
| 1 | 15 | 0 |
| 2 | 12 | 4 |
| 3–4 | 10 | 8 |
| 5–8 | 6 | 32 |
| 9–12 | 4 | 64 |
| 13–16 | 2 | 64 |
If you have any questions at all, feel free to contact me… emailing me is best([email protected] pokemama.com) or call me at 608-322-0549, and always be sure to mention in your message if it's about Madison, Rockford, or Oconomowoc.