Come join us for this special event!
Madison's Tale of the Wisconsin Werewolf Launch Party Tournament!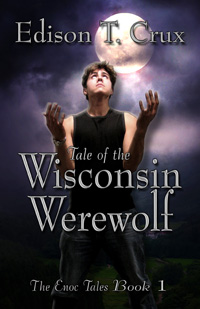 Sunday Dec 16th, 2012
Pegasus Games
6640 Odana Rd.
Madison, Wisconsin 53719
Registration and Book signing opens at 1pm, Tourney starts at 1:30 (League still available as well.)

Click the "more" link for complete details ->
In honor of my son, Edison's book release for Tale of the Wisconsin Werewolf, we have a fun day planned! This will be the first day his book will be available for sale at Pegasus Games, so he will be there for a 'Meet the Author' event, to answer questions, talk about the book, sign copies, tell stories, and all kinds of fun stuff! Tale of the Wisconsin Werewolf is a story based on the Beast of Bray Road in Elkhorn WI and makes a fantastic Christmas gift, for yourself or for a friend! And since the book is going to be sold through Pegasus, it helps support the store too!
We're also having a special Pokemon tournament alongside his Launch Party, to add to the fun! So come show your support for me and my son – buy the book, meet the author, get it autographed, and while you're at it, play in the tournament for some great prizes… including an autographed copy of the book!
This will be a free, sanctioned tournament, regular Modified format of BLW through BCR, so you can get in some practice for area City Championships while you're at it!
Prizes:
1st – 4 packs
2nd – 3 packs
3rd – 2 packs
4th – 1 pack
Plus one random player will win a copy of Tale of the Wisconsin Werewolf!
AND… for each copy of Tale of the Wisconsin Werewolf you purchase I will give you a raffle ticket towards winning one of the Pokemon hats I make!
This will be a very fun and exciting day, so I hope you'll join us! And I also hope you'll consider picking up a copy or two of my son's new book. It's been a labor of love for him for several years now and to see it finally come to it's release date, to have the finished book in our hands, to see it on sale at his website, these select locations, and on Amazon… well I can't begin to tell you how proud I am of his accomplishment! So come and join us for the day!