Time to take it to the next level!
Rantoul's Flashfire Prerelease is coming!
Saturday May 3, 2014
Rantoul Public Library
106 W. Flessner
Rantoul, Illinois 61866
(Please park across the street, just north of the library)
9:30 am Registration, we open packs at 10am
Cost: $25 (yes, lower price)
The first 30 players  will be Guaranteed to receive a cool Prerelease Promo Card!
Click 'More' for all the details on this awesome event! 
So what time does the fun start?
Registration opens at:  9:30am (open packs at 10:00)
No need to Preregister but you will need your POP ID number and birthdate to sign in there.  If you don't remember your number, contact me ahead of time and I'll give it to you.  If you have never had one yet, I'll assign you one there.
Here's information on this exciting new set from the Pokemon Website:
Blaze your way to glory and watch the sparks fly when you battle with cards from the Pokémon TCG: XY—Flashfireexpansion. Ignite the action with a firestorm of Fire-type Pokémon and watch your opponents' terrified double-take as the awesome Mega Charizard-EX makes its scorching debut in this breathtaking expansion. Your explosive adventures will continue as your foes flee the field with certain doom flashing before their eyes!
The XY—Flashfire expansion contains over 100 cards, including five new Pokémon-EX and three new Mega Evolution Pokémon. Look for theme decks and booster packs in stores May 7, 2014!
Features of the Pokémon TCG: XY—Flashfire Expansion:
New Mega Evolution Pokémon—The expansion features two powerful versions of Mega Charizard-EX (one Fire type, one Dragon type) and more
Five new Pokémon-EX cards—Charizard-EX leads the charge of powerful new Pokémon-EX to battle with
New Pokémon—Over 25 Pokémon from the Pokémon X and Pokémon Y video games appear in the XY—Flashfire expansion
15 new Trainer cards—New Item, Supporter, and Stadium cards bring increased depth and player strategy to competitive battles
Here are the details on the Prerelease!
- Main Event -
Cost:  $25 for 6 boosters to build the deck you'll play in the tournament, plus a special Promo Card  for everyone, while supplies last! And I CAN tell you that you'll love them! Plus 2 more packs at the end of the tournament!
Each player will receive 6 booster packs of the new set (to keep) and may start opening their packs when we tell everyone to go. Players will each build their own 40 card deck to play (using only those cards from the 6 packs, no trading cards with others until after the Tourney) and will also decide how many energies they will want to include in their decks (basic energies are provided at the event). Everyone will then have 30 minutes to build their decks, using only the cards from the packs they received. That totally levels the playing field… because from the best player around to the newest youngster there, everyone has an equal chance at this tourney because you never know what cards you'll get in your packs! That's what makes it so fun!
And don't worry, it's not really that hard to build your own deck… generally there aren't a whole lot of trainers in a set, so you'll usually want to include as many of them that will be helpful as you can. You want to make sure you have as many basic Pokemon as you can, and include any evolutions that you might have been lucky enough to get as well. Try to keep your deck to 2 or 3 types, like Fire and Electric or whichever, because that will be helpful to you in drawing the particular energies you need for your Pokemon's attacks. Of course Colorless type Pokemon can fit nicely into any type of deck since they can use any type of energy you happen to have. Since your deck needs to be 40 cards in total, a relatively simple rule of thumb would be 20 energies and 20 in any combination of basics, their evolutions (if you got any), and trainers. Then, just decide how many of which type of energies you'll need to get by looking over the energy requirements for your Pokemon's attacks. And that's pretty much all there is to it!
Remember, it's a tournament for fun, so don't stress over building 'the perfect deck'… just have fun with it!
Once the decks are built, the tourney will begin. For this event you play for 4 prizes with 20 minute rounds, and we usually play for 3 rounds. Also keep in mind the spirit of a Prerelease is non-competitive, with no real pressure to win, which is why everyone will receive prize packs at the end. The main thing is to have fun & check out all the new cards!
Prizes:ALL participants who finish will receive 2 more prize packs at the end of the tourney
(making a total of 8 packs, PLUS  the Promo card)
- Theme Deck Challenge -
Sorry, no more Theme Deck Challenges.
Want to get some extra booster packs? Bring in your friends, neighbors, parents… for every new person you bring in to play the Main Event I'll give you a bonus pack! Let's face it, Pokemon is a GREAT game, we ALL love it, and it's MORE fun the more people who play! This is going to be a VERY exciting new set and this is the very first day it's available too! You won't want to miss it!!  

Door Prizes - Of course , we'll have  random pack giveaways throughout the day! I also have some really cool door prizes to give out… besides packs and such, I'll give out a free Pass to our next Prerelease! You can be sure we'll have a good time!
PokeMama's Pokemon hat giveaway - Of course I'll be making some hats of the  Pokemon in the set to give away at my events! So be sure to come! You might get lucky and win one!
By the way….. Check these out!!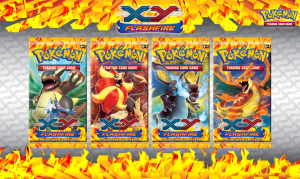 Be sure to come to the Prerelease so you can get to see what's inside before they even go on sale to the public! Check out the OP website for more info on some of the cards!
How/when can I pay for the event? You can pay on the day of the event by cash or check (made out to Camille Peltier-Robson) or you may pay in advance with Credit Card by Paypal if you wish (email Camille for simple details)
If you still want to know more on what you get, check out Camille's 5 minute video on What you get for your $$ at a Prerelease…  (there may be slight variances now from what's pictured as this one was from Dark Explorers)
And if you still want to know even more about what a Prerelease is like, check out this funny 11 minute video of my 2 sons (Marriland & Edison) at the Boundaries Crossed Prerelease at Top Cut Comics in Rockford IL… So much fun!!
This will be a GREAT fun time! You're definitely going to want to be here for this one
and bring all your friends along too!
See you there!!